EAST SHITLICK, TEXAS (DZERLAND News Service) — There will be no colored Easter eggs hidden away for the kiddos to search for this year. No fancy baskets filled with treats such as jelly beans and chocolate bunnies.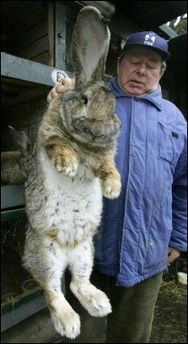 Yesterday, shortly before dawn, Rufus Preston "Big Mackers" MacKenzie fired off his .22-caliber rifle and bagged what he thought was a garden pest, a critter than had been decimating the vegetable garden of his wife, Irma Louise "Momma Mackers" MacKenzie.

Instead, MacKenzie had shot — and killed — the Easter Bunny.

"It was somethin' that was a'eatin' Momma's prize-winning tomatoes and her newly planted baby carrots, and Momma was a'wailin' and a'whinin' about it, so I wokes up all early and instead of goin' to the fishin' hole with Old Earl, Young Earl and Ugly Earl-Bob, I set on my back porch there and just waited," MacKenzie said. "Shortly afore dawn, I seen me these big ears a'bobbin' near the cabbage and aimed and fired. One shot was all it took."

MacKenzie had Momma Mackers take the picture of him holding up the dead Easter Bunny, then quickly gutted the beast, chopped off its feet ("Fer keychains, don'tcha know," he said), then skinned the oversized rabbit. Momma Mackers made her special fried rabbit with mashed taters and country gravy. There was enough for both of them, Old Earl and Young Earl, and Parson Fergus Twiddles. They had boysenberry pie for dessert.