Every year, on or around Father's Day, some golf buddies from work and I head to the island's most amazing, beautiful golf course: Mangilao Golf Resort. This year it was me, Steve (my pare', which means father to my godsons), Jojo and Cid. I've known them all for a long time — Jojo and I went to college together, Steve and I have been friends for more than 10 years, and Cid and I go back about six years or so. I regularly play golf with all of them over the year, but recently Steve and I have played a lot together, as we've been taking out his boys to Admiral Nimitz Golf Course.
Mangilao makes Nimitz seem like someone's backyard. This majestic course is situated on the eastern side of the island, along the cliffside. On top is the front nine; the back nine are down the cliff and along the coast. The course is always in tip-top condition, from fairways to greens. Even the rough is in great shape. There are tons of flowers, trees and shrubs, so visually it's very appealing as well. It's challenging, with super-fast greens, but it really is a pleasure to play.
I actually played like shit for most of the day, especially on the back nine, and none of us shot anywhere close to a good game — we were all over 100 on the par-72 course. But we had a great time. We all like each other, and playing golf with each other. I finished third in overall score.
But, being golfers, we're all gamblers too, so there were a number of wagers on the match. First, there were uncovered skins. We all put money into a pot, which is then awarded out based on the number of skins you win. To win a skin, you must shoot par or better on a hole, and have no one else tie you on that hole. I won the first skin, and it was the only skin until the 16th hole, when Steve won one. That meant only two skins, so the two of us split the pot. I was THAT close to taking all the money.
We also had pots for low front-nine score, low back-nine score, low-overall score, and another pot for greenies. To win a greenie, you must be on the green of a par-3 in one shot, and score par or better. I had a chance to win the first greenie after a great shot on the fourth hole, but I hit my putt to hard on a super-fast green and it rolled off and into a sand bunker. I blasted out and then ended up three-putting from there. Yes, I went from birdie putt to triple-fucking bogey. I'm still soooo pissed about that! LOL ... Anyway, Cid won low front, Jojo won low back, and they tied for low overall. Jojo got a greenie on the signature hole, a par-3 over the ocean to a peninsula green (photo below) and then two-putted for par to win the greenie pot.
There's also a game called "Putting Olympics." The person with the furthest putt, if he makes it in one stroke, wins $2. Next furthest out wins $1.50 with a made putt, the next closest wins $1 if he one-putts, while the closest putt gets 50 cents for a one-putt. If you're off the green or on the fringe and make it in, you get $2.50.
This is where I really cleaned up. I made a par putt on hole No. 3, a par-five, despite being in the sand on my drive and then hitting into the next bunker on my second shot. Lucky for me I got a decent out from there, then sent a beautiful 8-iron from 125 yards to about 15 feet from the pin, which left me with the $1 putt, which I drained. That meant all three of the others each owed me $1 ($3 total), plus I won the skin.
On the sixth hole, I was on the fringe of a par-four after three shots, about 20 feet from the hole. I used my putter and everyone watched me drain it center-cut. So each person owed me $2.50, for $7.50 total. On the ninth hole, I had the furthest putt, about 18 feet or so. Yep, drained another one, which meant $2 from each, or $6 total. On the back nine I made two more putts for money, one for 50 cents, the other for $1, and that was another pretty long one, for another $4.50 total. That meant a total of $21 for me just from Putting Olympics. Steve was the only other person to win skins, but he only won $3 worth, which meant a total of $18 for me. Heh.
It was blazingly hot and humid day and I was pretty spent for most of the back nine, which made my score balloon. On the front side, it was looking like I'd break 100 easily, but I struggled in above that. But despite the highest score I've registered in about two years, it was still a great day. Good friends, good conversation, a lot of friendly trash talking, and golf on a pristine and wonderful course.
What more can a guy ask for?
OK ... enough rambling. I gotta head back into work for several hours, so it's unlikely I'll be around at the usual time to look at blogs and comment and stuff, which is why I wanted to knock this out as early as I could.
Enjoy the photos below! I will get the flower/scenic pics up on DZER's Guam Pics

a little later today.

and here's my shitty swing, via animated gif
from swing pics taken by the golf course staff
on the signature hole ...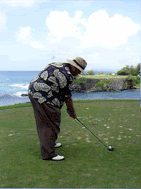 Mangilao Golf Resort
was designed by Nelson and Haworth golf course architects. The course is 6,904 yards in length. It's also a certified Audubon Cooperative Sanctuary System golf course, which means that it "emphasizes natural resource and wildlife habitat management in an environmentally friendly manner." Click on the link for more information and some great photos.